Donna Murray-Tiedge, MFA, Ph.D.
Executive Director
Dr. Donna Murray is a designer-artist-scholar with a keen interest in creative problem-resolving. After twenty-five years of working for industry and running her own entrepreneurial business, she returned to academia to gain teaching credentials. She has a BFA in Industrial Design, an MFA in Art and Design, and a Ph.D. in Aesthetic Education (teaching through the arts). Her research interests cultivate the intersections of art & design, education, and art & design education and push on the synergistic power of different intellectual points of view in the generation of ideas and the development of knowledge. She has presented aspects of her research nationally and internationally. She has taught at the University of Illinois, the University of Wisconsin-Oshkosh, and the University of Wisconsin-Stevens Point. She has taught online for Boston University and Kent State University. She served as chair-elect for the National Art Education Association (NAEA) Design Issues Group (DIG) and on the advisory board for the Design-Ed Coalition. She has been an annual visitor to Vilas County since 1969 and a permanent resident since 2015.
Angela Badeau
Creative Arts Coordinator
Angela is originally from Shiocton, WI and is a recent graduate of UW-Stevens Point where she earned a Bachelor of Arts degree in Arts Management and Communication with an emphasis in Public Relations. Throughout her time at UWSP, Angela worked as an intern at Central Wisconsin Symphony Orchestra, the Bergstrom Mahler Museum of Glass, and the Edna Carlsten Art Gallery where she gained invaluable experience and knowledge in event planning, fundraising, marketing and promotion. Her passion for the arts began early on in her life when she began playing the viola in elementary school and had a strong interest in art classes. In the years to follow, she continued taking elective art classes and participated in various orchestra programs, including the UW Stevens Point Symphony Orchestra. In her free time, Angela can be found listening to music, attempting a Pinterest DIY, spending time with her pets, and enjoying the outdoors.
The Warehouse Board of Directors
Julie Winter-Paez
President
Julie has been a member of this beautiful community permanently since 1996 but began vacationing here as a small child. She is more than anything the mom of Christopher, Jenna Anne and Addison and the wife of Andres. In her free time when not being mom; she is the Broker/Co-Owner of Re/Max Property Pros, LLC and an active Rotarian, Chamber Board Member, and general Volunteer. She has a BA in Social Work from the University of WI-Madison and believes that every day is an opportunity to be your BEST!
Judi Akins
Vice-President
Judi was born and raised in Chicago but spent summers in Conover since 1960. She attended Iowa State University where she met her husband John and graduated with a degree in Advertising Design and a minor in Education. She moved permanently to Conover in 2000, and is currently owner of Jensen-Akins Hardware & Appliance in Conover. Judi is a member of the Conover Chamber of Commerce and serves as Treasurer, she is also a member of P.E.O; which is a philanthropic education organization for women. She also has raised dogs for Canine Companions for Independence and is active in various other activities. She is the mother of three and the Grandmother of eight. Her hobbies are gardening, horseback riding and enjoying the Northwoods.
Cindy Kelly Conlon, J.D., Ph.D.
Secretary
Cindy is a teacher, yogi, lawyer, parent, spouse, and life-long learner who loves spending time in the forest as well as by the lake. Her diverse interests have led her to found the Chicago Street Law Project, where law students teach about practical law concepts in public high schools, as well as the St. Francis Visual Arts Program, recognized by the Art Institute of Chicago as a best-practice model of how to engage parent volunteers as art educators. Currently she teaches law-related classes for undergraduate students at Northwestern University, in Evanston, Illinois, and classes in meditation at the Wellness Center at NU. She also teaches yoga at various studios near Lake Geneva, Wisconsin, where she resides with her husband and two Labrador retrievers. Her three children and their families visit often, and especially enjoy spending time at her cabin in Eagle River. Her Ph.D. in education is from Northwestern, and her J.D. from the University of Pennsylvania School of Law.
Greg Trudeau
Director
Dr Trudeau retired after 26 years within the University of Wisconsin System. He started his education with a BA in Accounting and an MBA in Business Administration. After ten years in public and private accounting he entered into the field of education. He acquired his CPA (Certified Public Accounting), CMA (Certified Managerial Accounting), CIA (Certified Internal Auditor), and CFE (Certified Fraud Examiner) highlighting his in-depth knowledge of the many aspects of accounting and business. After acquiring tenure and being promoted to Full Professor he decided to go back to school to attain his Doctorate in Education (EdD) from the University of Minnesota. 
He has presented at numerous venues within the United States and across the world and has vast experience serving on, and chairing boards. 
In his free time he enjoys being outdoors, gardening, boating and kayaking, with the majority of his time wood turning in his woodshop. 
Marcia MacPhearson
Treasurer
Marcia Macphearson is originally from a rural farming community in central Illinois but moved to Chicago after graduating from the University of Illinois and lived there for 20 years before discovering the wonders of the Northwoods. She and her husband Kurk gratefully became Eagle River/Conover community members in 2020. Marcia is a Senior Partner with the global management consultancy Oliver Wyman. She has dedicated her career to executing strategic initiatives and new business ventures across the healthcare ecosystem, working with insurers, providers, pharmacy organizations, healthcare technology companies, and Private Equity investors. Specifically, Marcia's work often focuses on the intersection of care model innovation and digital solutions to improve the affordability and quality of healthcare for consumers. Marcia also has experience serving as a Board member for United Way in Western Chicago for the last 12 years serving on both the community impact investment and neighborhood networks committees. In her spare time, Marcia enjoys oil painting, working with stained glass, snowmobiling, and traveling.
Cheryl Leigh Kornely
Director Emeritus
Cheryl Leigh Kornely is an artist, interior designer and arts educator living in Eagle River Wisconsin with her husband Dale and their awesome dogs- Dremel and Nelly! She earned her undergraduate degree from UW Whitewater Wisconsin and her Master's degree from Marian College in Fond du Lac Wisconsin. Her areas of artistic interest are ceramics, painting and photography. She has long admired the work of Joan Miro, Wassily Kandinsky, and Vincent Van Gogh and aspires to contribute to her own body of work the same emotional response. Cheryl has owned and operated a successful interior design business in Eagle River and now works for Roughing It In Style in Harshaw, Wisconsin. She loves sharing her design experience with many residential and commercial clients. Cheryl is also very passionate about her family enjoying activities together like hunting, fishing, cooking, camping and traveling.
Elliott Aaron From
Director Emeritus
Elliott Aaron From is an Abstract Expressionist Performance Artist in the medium of painting. His talent and creativity allow him to explore this uncharted hybrid of Artistic Expression and Performance Art. Since embarking on this path in 2007 his unique talents have made him a Chicago-land celebrity. He works closely with local and national professional sports teams. Most well-known is his celebrated connection to the 3-time Stanley Cup winning Chicago Blackhawks with whom he has had an ongoing business relationship for the last 9 years. Elliott's love of painting is only paralleled by his love of helping those less fortunate. He has molded his successful business model around raising money for non-profit organizations. To date Elliott has helped raise over $4 million dollars for over 350+ non-profits nationwide.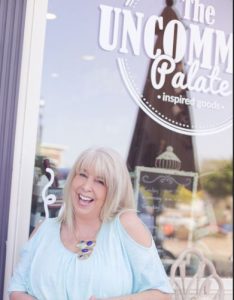 Lisa Opfer
Director Emeritus
Lisa is originally from California but has traveled extensively throughout her career, now residing in the Northwoods of Wisconsin since 2018 with her husband Steve. Lisa is a serial entrepreneur with decades of experience in sales, marketing and executive management in the home décor & related industries.
She began her career, credited with the development of the first outdoor roller-skating business in Venice Beach, California creating a successful National franchise chain. This was the segway into sales, product development, and marketing in the home décor and giftware markets, holding VP and COO titles throughout her career.  
Lisa enjoys building relationships, pitching ideas, and rolling up her sleeves to bring new business, ideas and memorable products to life. She strives to become a trusted adviser. While Lisa likes creative thought work, she has a strong tendency towards action and success using a fact based, consultative sales approach. Lisa is a quick study. When she hears clients describe their challenges and opportunities, she can quickly envision the processes and teams needed to deliver solutions for them. And she knows how to convert that thinking into clear project structures and proposals.
Lisa most recently was President and Founder of Destination Dundee Merchants Association in 2016 until 2019. Held Awards in the National Association for Professional Women and World Wide Branding Association since 2013, and was a co-leader at Westridge Community Center of the Arts in the Northwest suburbs of Illinois until 2019.
Lisa has two daughters who have achieved personal success and share Lisa's drive for excellence, one the Creative Director for a F2000 company in Chicago and the other as New Project Manager for a modular home producer also in the Chicago suburbs.
Marita Schwartz
Director Emeritus
Originally from Chicagoland, Marita has worked in hospitality sales and marketing, was a professional calligrapher, and served on awareness and fundraising committees advocating for individuals with developmental disabilities. Eagle River has been Marita's home for 7 years, having performed in the Northwoods Singers and served on the Board of Directors.
Libby Scott
Director Emeritus
Libby Scott is a photographer, musician, and educator. She possesses a BA in horn performance and Arts Administration from the University of Illinois and subsequently took photography courses at Palomar College in San Diego, Ca, and Santa Fe Workshops in Santa Fe, NM. In addition, she has taken workshops with notable photographers, including John Sexton, John Paul Caponigro Sr, John Paul Caponigro, Jr, Huntington Witherall, Kim Weston, Sam Abell, and Dan Burkholder.
Libby has received awards from Digital Art Guild in La Jolla, CA, the Del Mar Fair, and Photographer's Forum. She was a finalist at the Northern National Art Competition in Rhinelander, WI, and has showcased her work at Etherton Gallery, in Tucson, AZ, and the Old Schoolhouse Gallery, in Star Lake, WI. She was recently chosen as "Artist of the Month" at the Lake Lakes Center for the Arts. Libby shows her work in several galleries in the Northwoods of Wisconsin- plus teaches photography classes at LOLA Arts in Land O' Lakes, the Warehouse Art Center in Eagle River, and the Discovery Nature Center in Manitowish Waters, WI.
Lauren Ritzer
Teaching Intern
Lauren Ritzer is a local artist from here in Eagle River, WI and is studying Art Education at the University of Wisconsin- Milwaukee. She has worked with a variety of art mediums, but focuses on painting and drawing. Her work is inspired by the beauty that she has seen around her, whether it is man-made objects such as architecture or the intricacies of the natural world.
Hannah Caplan
Grant Research Intern
Hannah Caplan is a Northwestern University junior from Dallas, TX. She is majoring in social policy and statistics and minoring in business institutions. She is passionate about education reform, policy innovation, beneficial relationships between community groups, and problem-solving. Hannah spends her time out of class in her club, Student Consulting for Nonprofit Organizations, as well as on the NU Women's club lacrosse team, with Tyce. When home, Hannah loves spending time with her dog Lucy, who is a wheaten terrier poodle mix, and her mom, dad, and younger sister Emily.
Tyce Christian
Grant Research Intern
Tyce Christian is a junior at Northwestern University studying Learning and Organizational Change with a minor in Business and Legal Studies. She is from Washington, DC, and has always had an interest in the business side of non-profits. When home, she spends time with her two older siblings, parents, and their new puppy (arriving in October!).